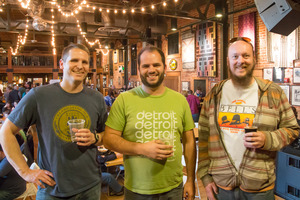 COMSTOCK, Mich. – Winners of the 6th Annual Bell's Homebrew Competition were announced Nov. 1st during the 7th Annual All Stouts Day at Bell's Eccentric Café.

Eleven homebrewers placed out of the 132 entries that were submitted. This year's winners list also features some familiar names from past competitions.

First place went to David Hellen for his Farmhouse Ale brewed with HBC 438 and Mosaic hops.

HBC 438 is an experimental hop, available exclusively to homebrewers. All proceeds from the sale of this variety go toward finding a cure for ALS via the Ales for ALS program that Bell's has been a part of since it started in 2013.

Hellen will get to brew his recipe at Bell's original brewery to then go on tap at the adjacent Café. He will also head to the 2016 Great American Beer Festival in Denver as a guest of Bell's and compete alongside a Bell's brewer in the Pro-Am Competition.
"We had a good mix of experimental and classically defined beers ­- a lot of variety this year. IPAs usually dominate the final round of judging, but this year that was not the case," David Curtis, Bell's General Store Manager and competition organizer, said.

Second place went to Nick Rodammer for his Gose inspired, dry hopped sour ale. Rodammer took first place in the 2012 Bell's Homebrew Competition with the recipe for Manden Med Leen, a Black IPA brewed with Belgian yeast.

Third place went to Jennifer Bilyk for her salted caramel Stout.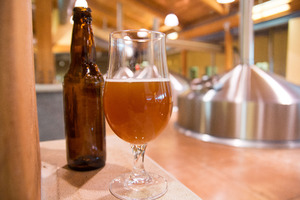 This year's runners up are (in no particular order):
Larry Yuhas – Coconut Vanilla Porter
Diane Spencer – Imperial Nut Brown Ale
Gregg Updike – Imperial Stout
Scott Feldpausch – Coconut Porter
Brian McHugh / Gary Howard – Light IPA with Blackberries
Joe Nielsen – Coffee infused American Stout
Gary Strappazon – IPA with Mosaic and Centennial hops
David Lyman (2013 winner) – Session IPA with Mosaic and Citra hops
"Homebrewing is where it all started for us. To be able to provide this opportunity on this scale and to see that familiar passion and drive, especially as we look back over the last 30 years is very rewarding," Laura Bell, Bell's Vice President said.
More information about when this year's winning recipe will be tapped at the Café will be released as it becomes available. Judges' comments are available to be picked up at the Bell's General Store.