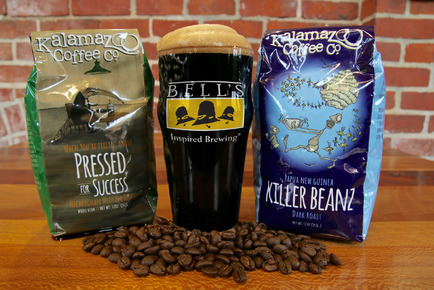 We have teamed up with the Kalamazoo Coffee Co. to create a brand new specialty stout. 
Bell's Milchkaffee (5.5% ABV) is a sweet, milk stout brewed with a blend of two coffee beans, Pressed for Success, a medium roasted Nicaraguan coffee and Killer Beanz, a dark roasted Papua New Guinea coffee, roasted just a block away from our original brewery, next to our pub, the Eccentric Café, in downtown Kalamazoo.
"It's exciting to work with another local Kalamazoo business and create something new that combines both of our passions," said Bell's Vice President, Laura Bell.
"This collaboration is another great example of what makes our hometown special and unique," she added.
Milchkaffee is a German phrase which translates to "milk coffee" and refers to a drink similar to a Café au lait.
The coffee used in the brewing process was made using a cold brewing technique which extracts the coffee aroma and flavor without any acidic or acrid notes. Combined with lactose, this technique gives the beer a smooth, gentle coffee character. Lactose also lends a silky, slightly sweet note to Milchkaffee.
"We are proud to work with Bell's. There is nothing better than to have local businesses working together to create something special for their community, that in itself is what helps create community," Garrett Krugh, owner of the Kalamazoo Coffee Co. said.
Only available on draught, this beer will be part of a special celebration at the Café on Nov. 11 featuring live performances from Kalamazoo's Ghost Bunnies and Saxsquatch & Bridge Band. Coffee samples from the beans used to brew this stout will also be available to taste alongside the beer.
Doors will open at 7 p.m. and music will start at 8 p.m. There is no cover (this event is 21 and up with valid ID).
A limited amount of this collaborative beer will also head to some events outside of Kalamazoo later this year. Details will be posted at on our Events Calendar as they become available.