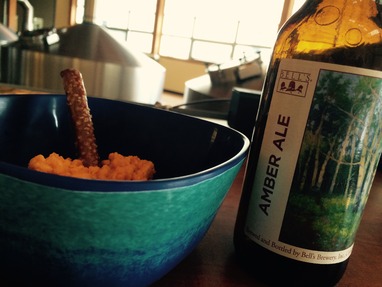 With a perfect balance of malt and hops, Bell's Amber Ale is a great introduction to our portfolio. Or on its own.
One of the oldest Bell's recipes, it is also quite versatile when pairing with food.
It is also great to cook with. 
The recipe below comes from the kitchen of our Michigan Sales Manager, Derek Zomonski. 
Enjoy.
Ingredients
½ cup Bell's Amber Ale
1 pound extra-sharp cheddar cheese, shredded
¼ Cup minced onion, rinsed and patted dry
2 tablespoons ketchup
1 tablespoon Dijon mustard
1 tablespoon Worcestershire
1 ½ teaspoons Tabasco
1 garlic clove, minced
1 teaspoon smoked paprika
Directions
Bring the beer to a boil in a small saucepan over high heat.
Reduce heat to low and simmer for 1 minute.
Transfer to a small bowl and cool to room temperature.
Mix, cheese, onion, ketchup, mustard, Worcestershire, Tabasco and garlic in a food processor or with a hand mixer until smooth.
Slowly drizzle in the beer and mix until smooth.
Cover tightly with plastic wrap and refrigerate until firm, about 2 hours. 
Serves 8-10 (maybe …).
 Adapted from The America's Test Kitchen Family Cookbook.