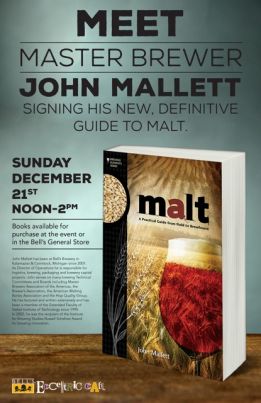 To celebrate the release of "Malt: A Practical Guide from Field to Brewhouse," we're hosting a book signing this Sunday, Dec. 21 at the Eccentric Café.
It will be held in the Café's Back Room from noon until 2 p.m. Books will be available to purchase both at the bar and at the Bell's General Store right next to the Cafe.
Written by John Mallett, Director of Production here at Bell's, this book is the fourth entry in the Brewers Publications' Brewing Elements series.
Delving into the intricacies of this key ingredient, Malt provides a comprehensive overview with a primary focus on barley from the field through the malting process.
Mallett offers readers primers on history, agricultural development and physiology of the barley kernel, leading readers through the enzymatic conversion that takes place during the malting process. A detailed discussion of enzymes, the Maillard reaction, and specialty malts follows.
Quality and analysis, malt selection and storage and handling are also explained making this book a valuable resource for all brewers.
Mallett has been with Bell's Brewery since 2001. As Director of Operations he is responsible for logistics, brewing, packaging and brewery capital projects.
John serves on many brewing Technical Committees and Boards including Master Brewers Association of the Americas, the Brewer's Association, the American Malting Barley Association and the Hop Quality Group.
He has lectured and written extensively and has been a member of the Extended Faculty of Siebel Institute of Technology since 1995. In 2002, he was the recipient of the Institute for Brewing Studies Russell Schehrer Award for brewing innovation.
For more information about this book, please go here.