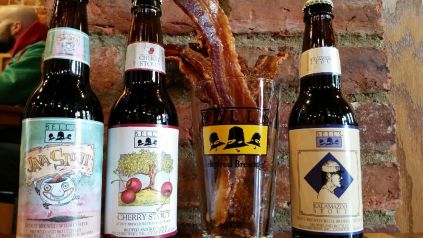 Recipe adapted from Heather in Lake Orion, Michigan
Always wanted a way to add beer to your bacon? Recently, one of our fans experimented with this idea and shared with this fabulous recipe. We had to try it!
When gathering your ingredients, you will want to make sure to choose a thick cut bacon. We went to a local, Kalamazoo butcher, V & V Quality Meats, for ours.
Kalamazoo Stout, which is available year round, perfectly complements the hearty, richness of the bacon while the coarse salt brings out the sweetness from the brown sugar.
Roasting the bacon for a longer time at a lower temperature will allow the bacon to reach that melt-in-your-mouth level of crispiness.
We also recommend using a cookie sheet with a tall lip to capture the bacon grease as it cooks. A larger pan underneath can also be used to catch any grease.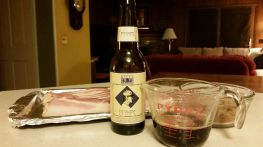 Here's the recipe:
Ingredients
• 1 lb. thick cut bacon
• ¾ cup dark brown sugar
• ½ cup Kalamazoo Stout (measure after foam goes down)
• Coarse sea salt
Directions
• Preheat oven to 385°F.
• Place bacon on a wire rack on foil lined cookie sheet and bake for 13 minutes.
• Mix together brown sugar and beer to make your basting liquid.
• Brush bacon with mixture. Flip and brush again.
• Cook for 15 minutes.
• Repeat this process 3 to 4 times until desired crispiness.
• Let bacon rest and cool for 10 minutes.
• Sprinkle sea salt on top.
• Let cool for another 10 minutes.
• Enjoy!!
We also tried this using Java Stout and Cherry Stout, both fall specialties. All three varieties were delicious!
Cherry Stout will give the bacon a deeper sweetness that candied the bacon fantastically. Java Stout with add another layer of flavor that any coffee lover is sure to enjoy.
Have a recipe featuring one of Bell's beers? Please share and perhaps you'll see your recipe featured here on our Blog!
Need help locating these or other beers nearby? Try using our Beer Finder.