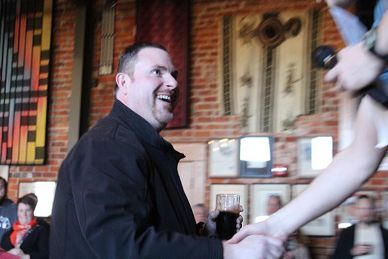 The winners of the 5th Annual Bell's Homebrew Competition were announced yesterday during the 6th Annual All Stouts Day at the Eccentric Café.
Twelve homebrewers placed out of the 162 entries that were submitted for this year's competition.
Matt VanNatter (photo, right) took first place with his California Common style beer brewed with coffee.
He will get to brew his recipe at our original brewery to then go on tap at the adjacent Café. He will also head to the 2015 Great American Beer Festival in Denver as a guest of Bell's and compete alongside one of our brewers in the Pro-Am Competition (both prizes are new this year). 
Judges were again impressed with the quality of the beers this year, said David Curtis, Bell's General Store Manager and competition organizer.
"There was a lot of experimentation like in past years but overall, very solid beers," he said.
Second place went to Teri Grossman for her Pale Ale brewed with mango and habanero. Third place went to Laurie Newman for her Belgian Dubbel brewed with oranges.
Also placing in the top six are (in order) Dawn Updike (hoppy Pale Ale), Lauren David (Cherry Beer) and Kevin Cole (Amber/Brown Ale).
This year's runners up are
Patrick Kean – IPA
Tony Cafarelli – American Pale Ale
Vaughn Vargo-Alevras – Berliner Weisse with Michigan Tart Cherries
Mike McCoy – Brown Ale with Blueberries
Dave Lyman – India Brown Ale
Jay VanBuskirk – Double IPA
More information about when VanNatter's winning recipe will be tapped at the Café will be released as it becomes available. Judges' comments are available at the Bell's General Store.
Cheers and congratulations to all!