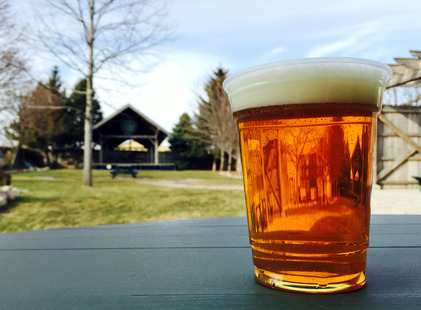 The sun is out and spring is around the corner and to top it off, we are enjoying the winning beer from our first ever employee homebrew challenge, Thruway IPA.
As a team building activity, over 50 employees entered the competition and were divided into 13 homebrew teams with the goal to develop the best beer to then be voted on by all Bell's employees.
Each team consisted of employees with homebrew experience ranging from little to none to our very own brewers. It included employees from almost every single department here at Bell's.
Our New York sales team, one of the more recent additions to the Bell's Family, developed Thruway IPA in their home state and brought it back to Kalamazoo to be entered in our employee homebrew challenge. Thruway IPA ran away with the popular vote and was crowned the first ever Bell's employee homebrew challenge winner!
After winning the homebrew challenge, our New York sales team came back to Kalamazoo to brew their beer on our experimental 15 barrel system (our original brewery) located right next door to the Eccentric Café and is now on tap for anyone to enjoy.
Thruway (7% ABV) presents with a very pungent, tropical hop aroma and finishes with a luscious malt backbone.
In homage to Bell's NY Sales Team, the name Thruway IPA comes from the New York Thruway, a toll road that starts in NYC and runs to the Pennsylvania state line, connecting major cities across New York state.
Congratulations New York sales team!