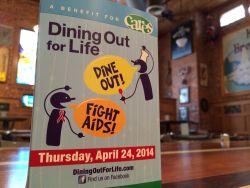 Dine (or drink) with us, help fight AIDS.
Join us at the Eccentric Café on April 24 for the 6th annual Dining Out for Life, a benefit for CARES, Community AIDS Resource and Education Services.
Starting at 4 p.m., 25% of your bill (both food and drink) will be donated to help keep southwest Michigan healthy.
Visit DiningOutForLife.com for more information.