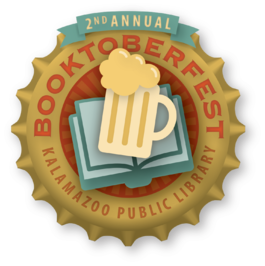 Kalamazoo Public Library's 2nd Annual Booktoberfest features three different sessions lead by two of our staff.
John Mallett, Director of Operations here at Bell's and author of "Malt: A Practical Guide From Field to Brewhouse," along with David Curtis, Bell's General Store Manager, will both lead homebrew related sessions.
Mallett will speak on Sept. 29 about how to select the right ingredients while keeping both quality and cost in mind at the Oshtemo Branch Library.
Curtis will lead two workshops in October at KPL's Central Branch (downtown):
Getting Started Homebrewing (equipment, the brewing process, plus tips and tricks to get started) - Thursday, Oct. 22, 6:30 p.m.
Choosing Homebrewing Equipment (equipment choices and upgrades for any budget) - Thursday, Oct. 29, 6:30 p.m.
Other programs include a session with Jeff and Bonnie Steinmann of Hop Head Farms (their hops are used in a few different Bell's beers including our Christmas Ale) and another with Fred Bueltmann of New Holland Brewing Co. and author of Beervangelist's Guide to the Galaxy.
There are also special beers from Kalamazoo's One Well Brewing and Tibbs Brewing. All programs will offer raffle prizes and giveaways.
For more info, go here.