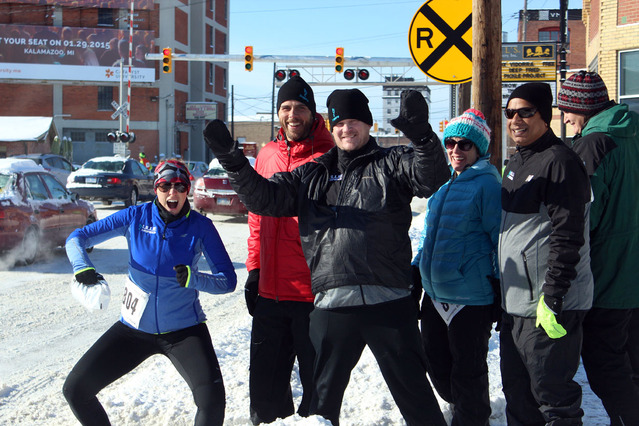 The sixth annual Kalamazoo Beer Week (KBW) is nearly upon us. From Jan. 16 through 23, Kalamazoo will be celebrating its craft beer heritage with a weeklong series of events that support the craft beer experience including special tastings, dinners, and interactive events. Last year, KBW boasted more than 250 events. Details for all of Bell's beer events are below. Get event updates and more Bell's news by following us on social media, including Facebook and Twitter. We also have Facebook events for specific Bell's events. See the latest on KBW with the hashtag #KBW2016.
Weeklong
Specialty pairing menu at Rustica on the Kalamazoo Mall.
Saturday, Jan. 16
Bell's 4th Annual Kalamazoo Beer Week Snow Jog Adventure (Leisure) Race & Challenge! -- SOLD OUT
Downtown Kalamazoo, 12 p.m. Facebook event
January 4, 2016: This year's race is now sold out. If you missed out this year, be sure to mark you calendars for next year.
This annual 21 & over "race" helps kick-off KBW with a choose your own adventure run/jog/walk all over downtown Kalamazoo to benefit Kalamazoo Loaves & Fishes. The 5k-ish route includes 11 stops with challenges & Bell's beer at different downtown bar and retail locations, all with hopes of randomly winning the grand prize (and being entered to win other great prizes as well). Teams of two can register for $40 (that's only a cool $20/runner!) plus one non-perishable food item per person. Don't wait to sign up! This run sells out every year!
Once registered, join us at Rugger's Up & Under (711 W. Michigan Ave, Kalamazoo) on Friday, Jan. 15 from 5-8 p.m. for early packet pick-up and waiver signing. Packet pick-up will begin at 10 a.m. on Saturday the 16th (race day) and the run will start promptly at noon.
All runners must return to the Eccentric Café by 3:30 p.m. ON THE DOT, complete eight of the 11 challenges to receive this year's exclusive Snow Jog Swag and all 11 challenges to be entered into the grand prize drawing. Keep in mind, this is a leisure run, there is no benefit to finishing first! Take your time, drink up, be safe, tip your bartenders and obey all traffic laws.
Participating locations:
Stouts and Snouts
Old Burdick's Downtown, 7 p.m.
Six of our stouts with five different prepared pork dishes hosted by Bell's Head Brewer, Andy Farrell. Featured beers: Kalamazoo Stout, Sweet Potato Stout, 30th Anniversary Imperial Stout, Milchkaffee (a collaboration beer with the Kalamazoo Coffee Co.), Cherry Stout and Special Double Cream Stout.
Sunday, Jan. 17
Bell's Beer Brunch
Bell's Eccentric Café, 10 a.m. – 3 p.m.
$20/adults, $10/children 10 and under, Free/children 3 and under.
This is an all-you-can-stuff-your-face- buffet featuring specialty beer cocktails, table doodles and chicken & waffles. Featuring entertainment from special guests Who Hit John? Availability is first-come, first-served.
Bell's Beat the Brewer at Everybody's Favorite "Sport," Bowling
Airway Fun Center, Portage, 5 p.m.
Part of our first annual Kalamazoo Beer Week Beat the Bell's Brewer Olympics, we will be hosting contests of skill throughout the week. Come to Airway and challenge a brewer to a game of bowling.
Monday, Jan. 18
First Ever Bell' Great American Spell-off!
Bell's Eccentric Café, 6:30 p.m. registration, bee starts at 8 p.m.
$15 registration fee includes your first beer.
Proceeds benefit the Comstock Township Library. Misspell a word? You'll have a shot at redemption by challenging a brewer to the same word! A panel of judges will deliver words from the Merriam Webster's dictionary for a chance to win first, second or third place. This is a 21 and over event. Who will end up "too drunk to bee?"
Tuesday, Jan. 19
An Eccentric Café Beer Dinner
Bell's Eccentric Café, 6 p.m. Facebook event
$60 + tax and gratuity.
Limited seating available. Five-course beer and food pairing, hosted by Laura Bell. Vegetarian options available, hosted in The Back Room at the Café. Sign up with Carly Buzz at cbuzz@bellsbeer.com or by calling 269-250-8827. This is a 21 and over event.
Bell's Beat the Bell's Brewer at pick 'em Pinball or Ping Pong
Old Dog Tavern, 7 p.m.
Part of the Beat the Bell's Brewer Olympics. Challenge a brewer to one of two games of dexterity: tennis or The Original Video Game. Six different Bell's beer will be on tap!
Bell's Beer Tasting
Drake Party Center, 6-8 p.m.
Bell's Beer 101
Holiday Inn West, 6 p.m.
Learn about the foundational styles of Bell's  from one of our representatives, poolside.
Wednesday, Jan. 20:
Jortslam Hopslam Release Party
Bell's Eccentric Café, 7 p.m. Facebook event
Our official Hopslam Release Party will feature Live Band Karaoke, along with a "Jortiest Jort of Jortslam" competition for the best jean shorts. We'll have a Hopslam photo cut-out to take pictures with and a free photo booth in the hallway from 7-11 p.m. Winners will be announced during set-break. Official Hopslam release party! A 21 and over event.
Beat the Brewer (and Laura Bell) at Mario Kart
Shakespeare's Pub, 7 p.m.
Six of our beers will be on tap.
Thursday, Jan. 21
Bell's Beer Tasting
Bacchus, 4-6 p.m.
Beat the Brewer at the World's Worst Game (putting green)
Louie's Trophy House, 7 p.m.
Four of our Bell's beers on tap.
Friday, Jan. 22
Beat the Brewer at Eating (A.K.A. a Bell's Beer Dinner hosted by Laura Bell)
The Park Club, 6:30 p.m.  
A five-course beer dinner. Registration details here
Saturday, Jan. 23
Beat the Brewer at Feats of Strength, Fortitude and Agility
Old Burdick's Downtown, 6 p.m.
Featuring 10 of our beers on tap.